Let's talk about love.
To quote my girl, Taylor Swift:
"You can hear it in the silence, silence,
You can feel it on the way home, way home,
You can see it with the lights out, lights out
You are in love, true love."
When you fall in love, it's like a rush of something and everything. You feel it everywhere and anywhere and nothing can bring you down. But it hurts a little too, somehow, some way.
So let me tell you about how I met the love of my life...

Literature.
Wait, sorry. What were you expecting?
The love of my life always has been and always will be literature. Reading, writing and the rush that comes with having all these stories just for you. Or to share. If you want.
I met the love of my life in a funny way. To quote John Green, now:
"I fell in love the way you fall asleep: slowly, then all at once."
But really. Anyone remember a little book called
Harry Potter and the Sorcerer's Stone
? Oh, yeah? You've heard of it? Well, my mom got it for me in Kindergarten and we would read it together before bed. Slowly but surely, though, I was into reading it on my own. And the rest is just history.
I really remember loving
Eragon
and
A Series of Unfortunate Events
a LOT as a kid. Specifically, I remember one Valentine's Day my mom got me
Eldest
as a present. Best Valentine's Day EVER?! I read any and everything, though. Library was my favorite of the activities in elementary school.
Then, in middle school, my tastes changed a little. Or a lot, really. It was all about
The Clique
and
Gossip Girl
. Oh, come on. You loved Massie. Or loved to hate her. Let's be real, here, we all loved those crazy clever titles and the insane amount of middle school drama. And, also in middle school, a huge thing happened. My mom recommended
an adult thriller
to me and reading changed forever.
In high school I got into the classics. I fell head over heels for the drama and romance of
Jane Austen
, especially. Something about
Emma
just drew me in. I think I'll always relate to the eponymous character so much, really, and it'll always just be my absolute favorite.
John Green
also stole my heart at this time!
In college, I fell in love with Rainbow Rowell's
Fangirl
, among many other YA titles. I also found another adult thriller that was SO amazing -
Luckiest Girl Alive
. Another recommendation from my mom! My taste just kept broadening and expanding.
And now I'm in a new stage. Working full-time in advertising and exploring this love for reading and writing with Robby Reads. You guys are part of this stage of my life, which is so cool. So far books like
Simon vs. the Homo Sapiens Agenda
and
They Both Die at the End
have already made such an impact on me since Bookstagram! I can't wait to see what books change me from here on out.
Which leads me to today. To now. I just finished a book that has left me feeling all the feels. I don't think there are any feels left for 2017. If there are, I need time to emotionally prepare.
Meet Cute
is
everything
. If you like YA and rom-coms? You're going to fall in love with this book. Maybe, if you haven't heard of it yet, this blog post is your meet cute with the book. Maybe you needed this blog post to meet your new favorite book. You'll just have to
pre-order it
to find out.
From GoodReads, the synopsis... For good measure:
"Whether or not you believe in fate, or luck, or love at first sight, every romance has to start somewhere. MEET CUTE is an anthology of original short stories featuring tales of "how they first met" from some of today's most popular YA authors.
Readers will experience Nina LaCour's beautifully written piece about two Bay Area girls meeting via a cranky customer service Tweet, Sara Shepard's glossy tale about a magazine intern and a young rock star, Nicola Yoon's imaginative take on break-ups and make-ups, Katie Cotugno's story of two teens hiding out from the police at a house party, and Huntley Fitzpatrick's charming love story that begins over iced teas at a diner. There's futuristic flirting from Kass Morgan and Katharine McGee, a riveting transgender heroine from Meredith Russo, a subway missed connection moment from Jocelyn Davies, and a girl determined to get out of her small town from Ibi Zoboi. Jennifer Armentrout writes a sweet story about finding love from a missing library book, Emery Lord has a heartwarming and funny tale of two girls stuck in an airport, Dhonielle Clayton takes a thoughtful, speculate approach to pre-destined love, and Julie Murphy dreams up a fun twist on reality dating show contestants.
This incredibly talented group of authors brings us a collection of stories that are at turns romantic and witty, epic and everyday, heartbreaking and real."
HOW AMAZING DOES IT SOUND? And it BLOWS away your expectations. I actually, literally loved every single story. And I'm picky. As my mom puts it, I'm "very particular." I'll skip stories in an anthology. I will! But this book... Every single story captivated me and moved me in its own way. I'm not 100% sure of my favorite... I think The Unlikely Likelihood of Falling in Love or 259 Million Miles? Or Say Everything? Though The Way We Love Here stole my heart with its unique premise and gorgeous settings. Hourglass inspired, Oomph and Click tugged at my heart strings and The Intern was like a dream coming true.
I don't know. Don't ask me to pick a favorite. I need some time to mull that over.
On top of being literally everything I love, it also reminds me of my favorite movie of all time, The Holiday.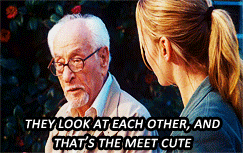 +10000 Bonus Points to Meet Cute. I'm just saying. You need to get it. Now. Don't wait. And then can we please discuss? Let me know when you feel all the feels!
So, I guess when it comes down to it, I met my love for reading because of my mom. She reads, like, 900 books a week and is also my general inspiration in life. And, when I told her about Meet Cute, she said it reminded her of The Holiday instantly. I guess it's true what they say about becoming your parents? I could think of worse things. ❤️
xx Robby
(Thank you, HMH Teen, for sending me this book. I am so grateful for the impact it has had on me. I can't wait to read it again and again!)
Shop the books mentioned in this post: